It's no secret that physical activity and being outside matters. It's important to us all, we know that. We know that as a nation we need to move more, we know about the rise in childhood obesity, we know that both physical activity and being outside in nature can have profound benefits to both are mental and physical health. We know all these things.
If you are a parent, you will also have probably observed the fact that physical activity and especially physical activity outdoors can help to improve your child's behaviour and their sleep – you will no doubt understand how closely all these things are linked.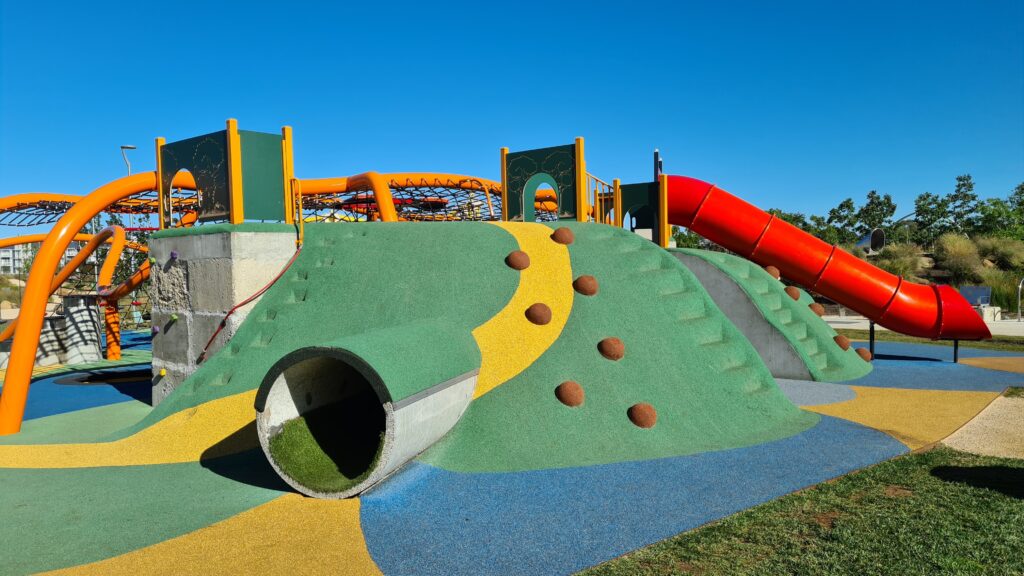 You don't have to have lots of outdoor space at home to ensure your children get these play opportunities. These days schools are providing both specific P.E. time, but also free play time outside. If you are lucky, your child's school will also be offering things like forest school. In addition to this there are literally thousands of public open spaces and public playgrounds all over the UK.
One of my children's favourite things to do in the school holidays is to do a park tour. We aim to visit six or seven parks/playgrounds in one day. The children rate them all and put them in order of their favourite and then next time we go, we start with the one that scored the highest. It is good free fun that gets everyone moving and out in the fresh air.
Physical movement in childhood is so important for developing gross motor skills, building strength, resilience and self-confidence too. It's vital that all children have the opportunity to use accessible play equipment as well as open green spaces and forests.
As a parent, I love to see a well-constructed quality playground or outdoor gym for children. I like to see quality equipment that challenges children in a number of ways and I like to see a good quality flooring with what I call "bounceability" – basically, if someone falls off something they will bounce and get up and carry on playing! This applies to both public parks and playgrounds and of course the playground equipment for schools.
One company who stand out in the crowd when it comes to play equipment are Morti Sport & Play, who are able to offer a complete solution. Unlike other companies who might just supply the play equipment, they can undertake groundworks, drainage and playground installations and totally project manage a scheme from initial concept through to completion – taking the stress away for the school or local authority. They also have a variety of different playground surfaces- not just the standard wet pour. Quotations are also a fixed price which is a huge advantage for schools with tight budgets and fixed amounts of money to spend on projects like this.
Quality school and local playground equipment really matters. Whilst children are supposed to have designated time for P.E. in schools, the reality is that in many schools this seems to be the first thing to go. Sometimes sessions are cancelled because of the weather, the rehearsals for the school play, an assembly, teacher absence, and so on. Personally, this really bothers me. I'm lucky enough to be able to take my children to swimming lessons, swimming club, basketball sessions, netball etc – but I'm very aware that for some families this just isn't possible. For some, time at school is their only chance to be physical during the day. This is why having quality school playground equipment really matters – because, even if sessions are cancelled, breaktimes still happen and they are a chance to move around and enjoy being outside.